Health Camp at Kavre Banepa
On August 11, 2017 RC Yala Anns Group in association with Rotary Club of Kavre and the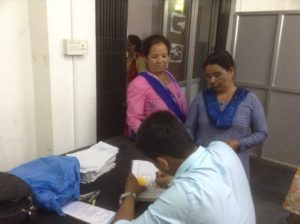 Rotract  had held a health camp at Kavre Banepa.  99 women had VIA test and breast checkups supported by Rotary Yala Ann Group in partnership with Nepal Cancer Care Foundation.  Patanjali Yog Centre had provided required space in their premises for the health camp.
Of the 99 women tested 6 persons were found to have VIA positive, 3 had been found infected and 1 had ovary prolapsed. The camp has been effective, which helped the infected persons to be aware of their health situation on time.
The Ann group has provided Rs. 9900 at the rate 100 per person to
Nepal Cancer Care Foundation as a VIA test fee support.
The president of RC Kavre, Rtn. Naresh Pradhanang had been instrumental arranging health camp facilities and welcoming RC Yala  Ann Group.
The persons, who provided their service in the camp were:
Nepal Cancer Care Foundation
Sarita Ghimire
Parmeswari
Finana Suyan Rumali
Nurse Urmila Thapa
Nurse Sunita Giri
Nurse Dhana Kumari Ghartimagar
Bimala Bhattarai, Helper
Dev Bahadur Lama, Driver
Ann Group, RC Yala
Mina Shrestha
Bhavani Shrestha
Badri Laxmi Joshi
Jyotsana Shrestha